Description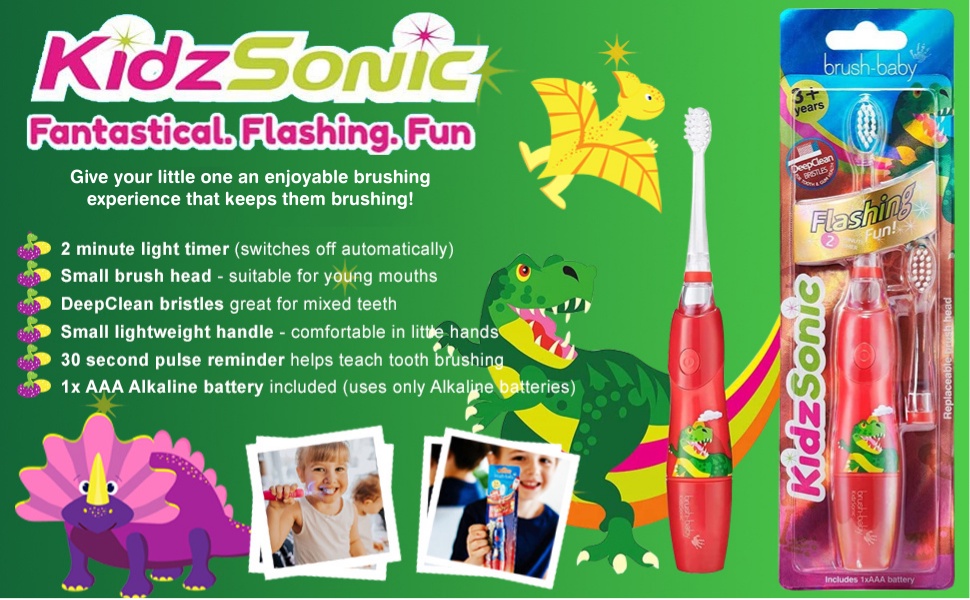 TickledBabies and Baby-Brush Philippines are the exclusive distributor and official brand store of Brush-Baby. To ensure quality and authenticity of your purchase, please only transact from these authorized stores.

KidzSonic electric toothbrushes are perfectly designed for kids developing teeth; small and manoeuvrable, with dental features and DeepCleanTM bristles that clean both the surface and in-between teeth. The bi-level bristle arrangement is significantly more effective for removing plaque compared to normal bristles. Flashing disco lights turn the fight-to-brush to a want-to-brush as alternating colors light up the brush head to create an entertaining and fun brushing experience.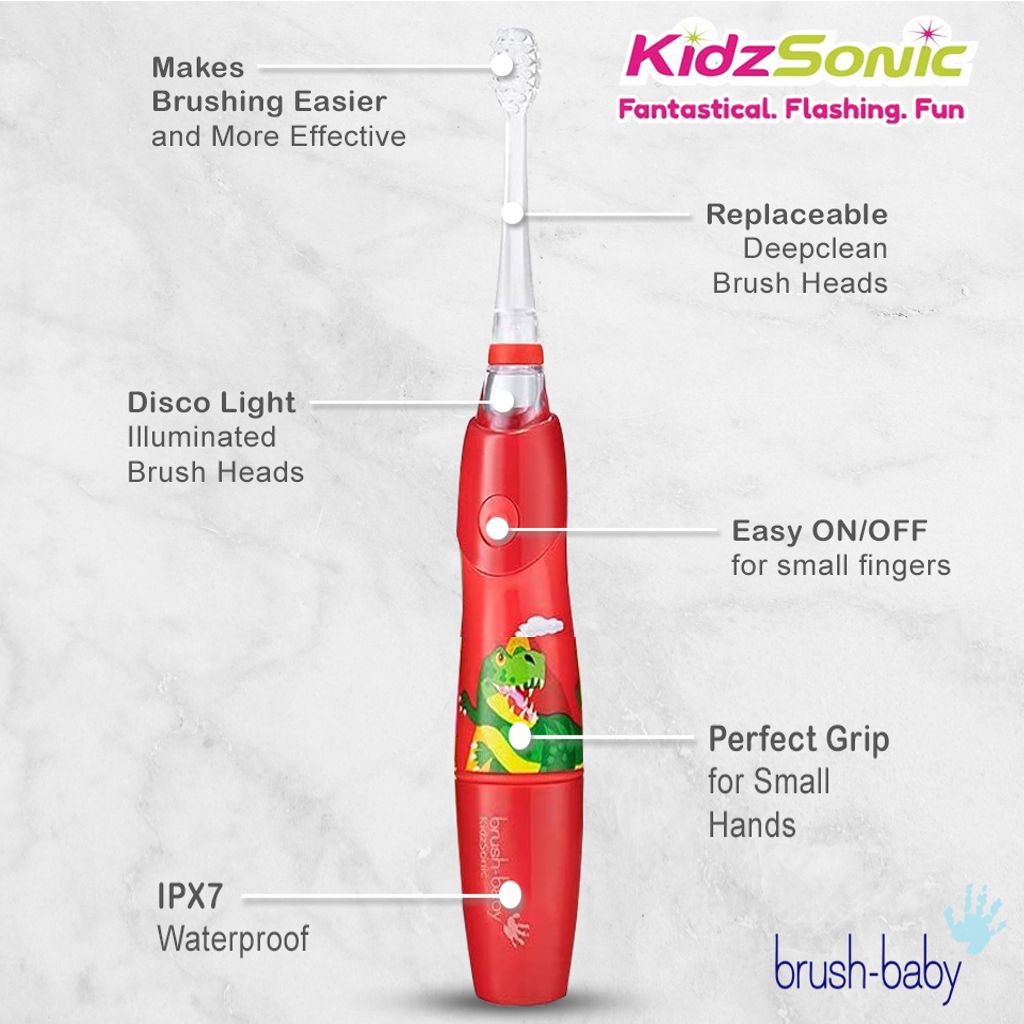 The age-appropriate sonic vibrations and BPA Free DeepClean Flossing bristles, designed for small mouths, clean interdental and gingival regions free of harmful plaque with a 21% increase in reduction over manual brushing. Award winning design made for small hands, with simple ON/OFF button, make it easy for your little one to brush on their own while the smart 2 min disco light timer with 30 sec quadrant change pulses teaches your child good brushing habits. In case of those accidental water drops, the IPX7 waterproof certified design allows KidzSonic to be submerged in 3 feet of water for up to 20 mins.
Replacement brush heads are available in 4 packs.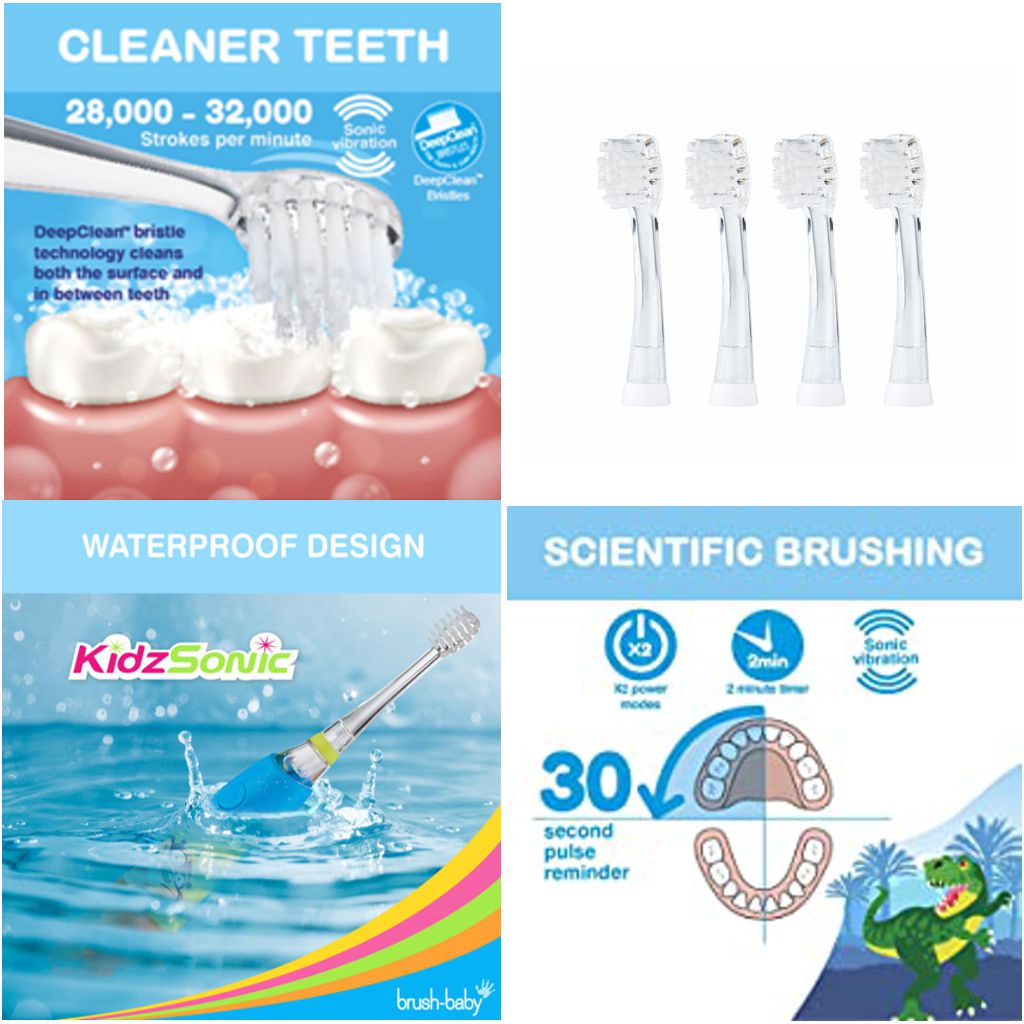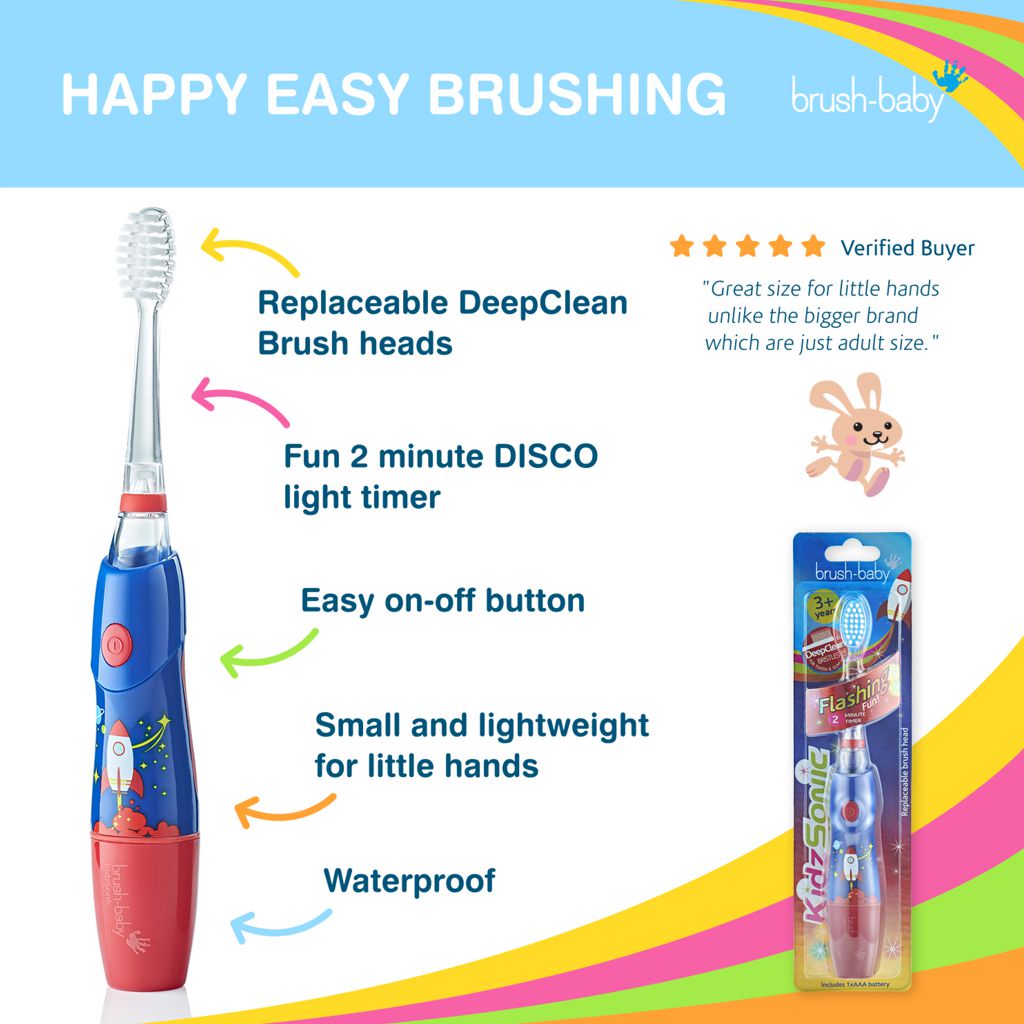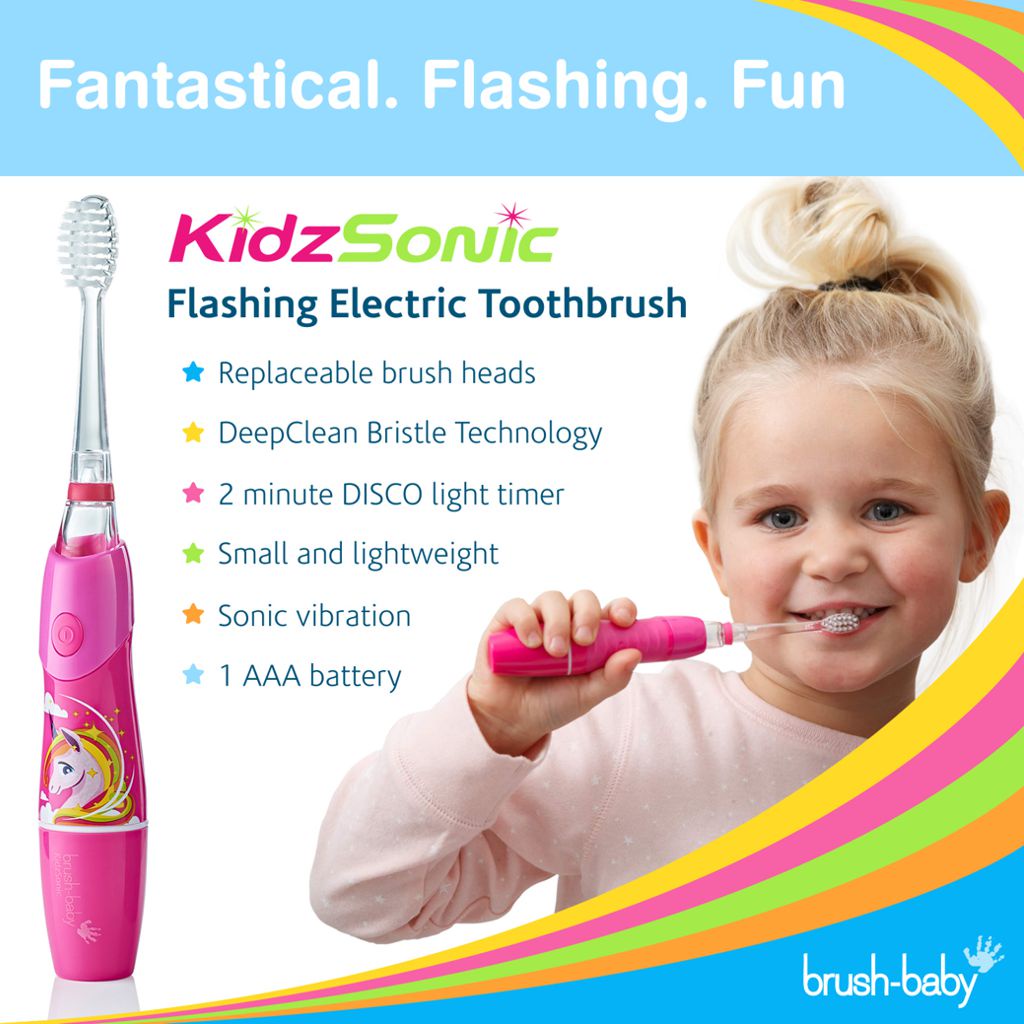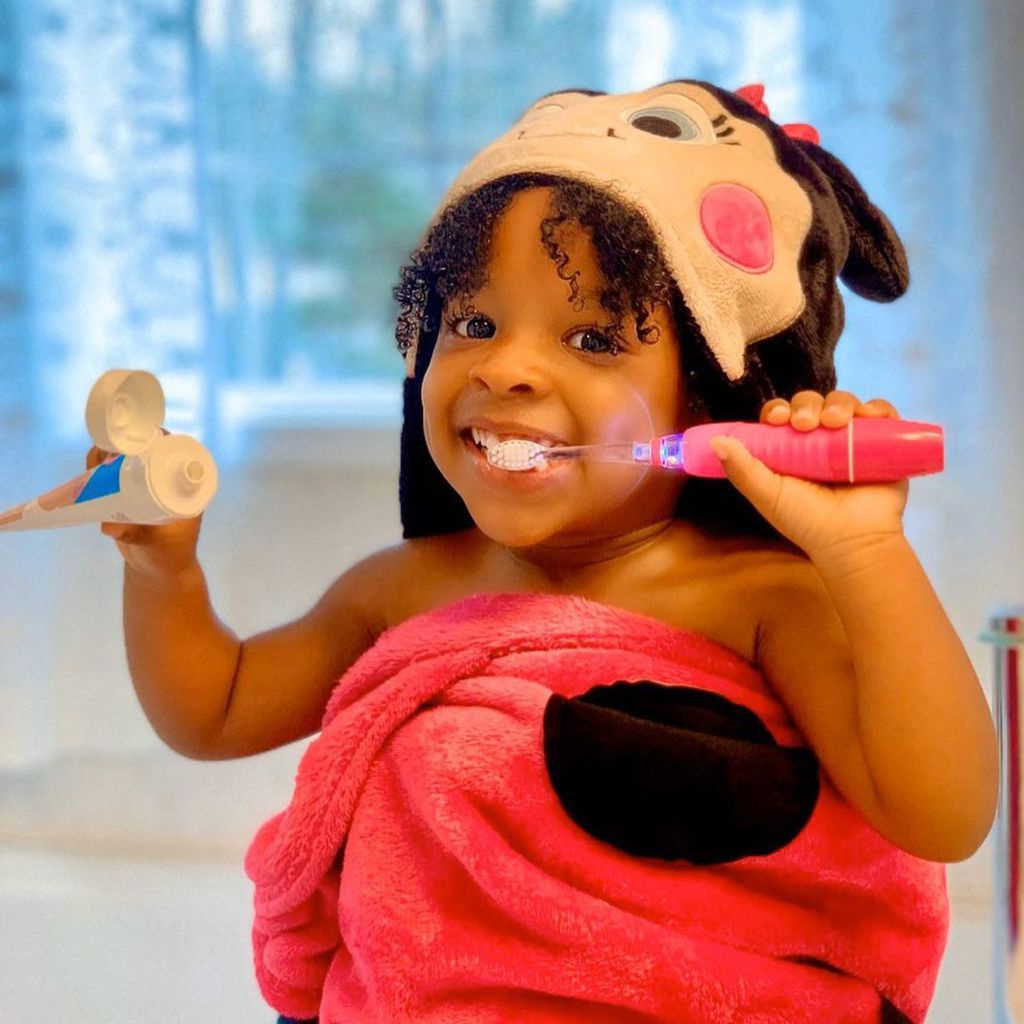 Why You'll love it:
Unique bi-level Flossing Bristles clean in-between teeth.
With small lightweight handle, comfortable in little hands
Small brush head with soft vibrating bristles, ideal for children
Disco light illuminated brush head
With flashing 2 minute disco light timer
Easy ON/OFF for small fingers
IPX7 Waterproof
30 second pulse reminder, to keep kids brushing
Replaceable brush head and battery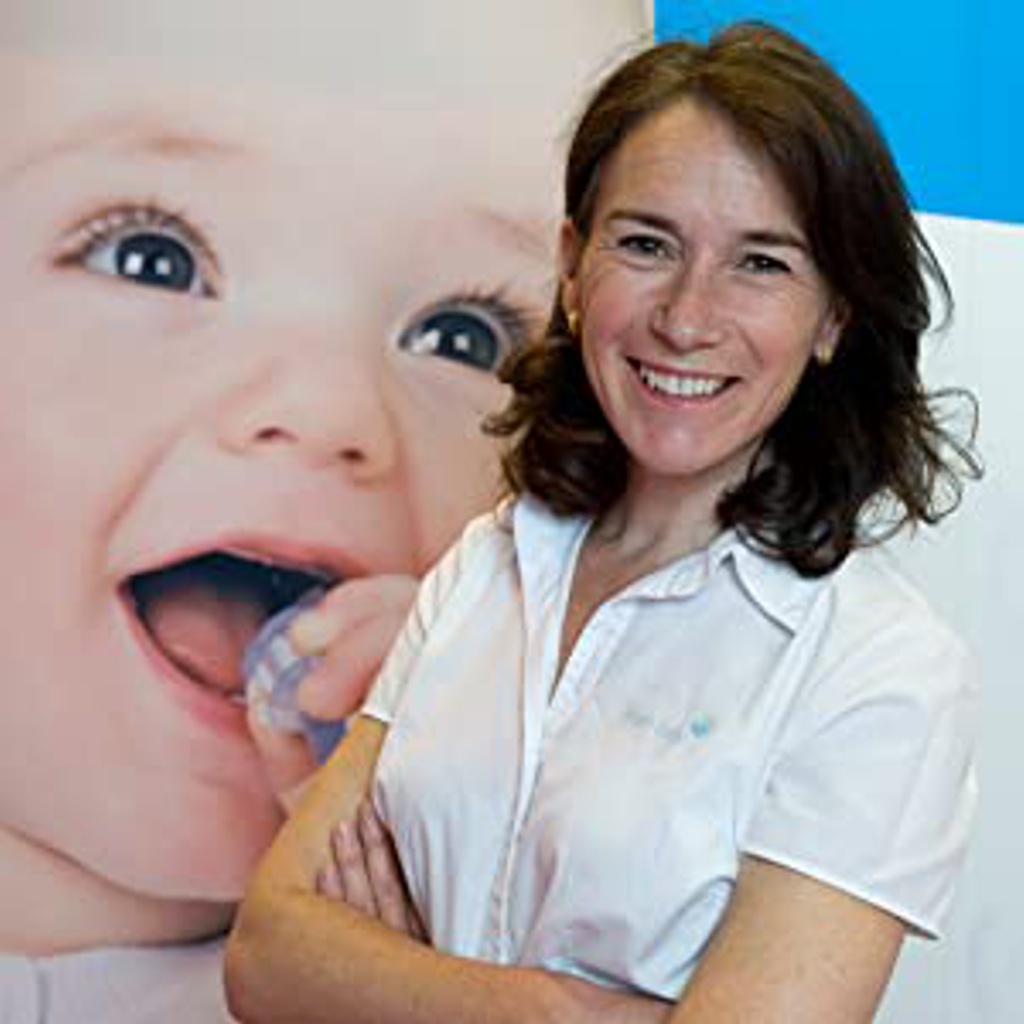 The Brush-Baby Story
Brush-Baby was inspired by a little girl who chewed her toothbrush! Having a sister who is a dentist I was well aware how important it was to keep my baby girl's gums and teeth clean. I was careful about what she ate and wanted to teach her that good oral hygiene habits (including liking her dentist!) could be fun, healthy and cool. But tooth-brushing time could be a real battle! She would chew her toothbrush, if I could get it into her mouth at all. When I went to the shops there was little available to help me. And so Brush-Baby was founded!
Brush-Baby's range of products have been designed especially for babies, toddlers and young children to takes into account their tooth development, habits and brushing skills. We want to help provide the best start for our children's oral health so that as they grow up they can have the beautiful smiles that they deserve and we all enjoy. From gummy smiles, to toothy smiles, to grown-up smiles, we're with you every smile of the way.